Historic Japanese Village Exhibition by Virtual Reality Street Museum

The Thai-Japanese Association has received contributions from the Japan Chamber of Commerce, Bangkok, and leading Thai and Japanese business organizations who are truly aware of the value of the long-standing relations of the two countries to proceed with the renovation and modification of the historic exhibition relating to Ayutthaya, Japanese Village and relations with many countries, so that it be complete and more interesting, by applying Virtual Reality Street Museum technology which is produced by Toppan Printing Co., Ltd. in Japan, to promote a new concept of tourism. Visitors can play a part and yet gain different experiences by means of computer graphic images of 96 million pixels resolution.
---
Steps of Viewing Street Museum

Scan QR Code of Street Museum by using smart phone.
Once you are in an area with VR location on your smart phone or tablet, you will be able to view and enjoy the landscape of Japanese Village in the 17th century in 360 degrees panoramic dimension.
You can compare the traces of the current Japanese Village with the pictures of the Japanese Villages that are simulated by the VR technology displayed on the screen. The lecture is available in 3 languages: Thai, English and Japanese.
---
VR Visiting Locations in Japanese Village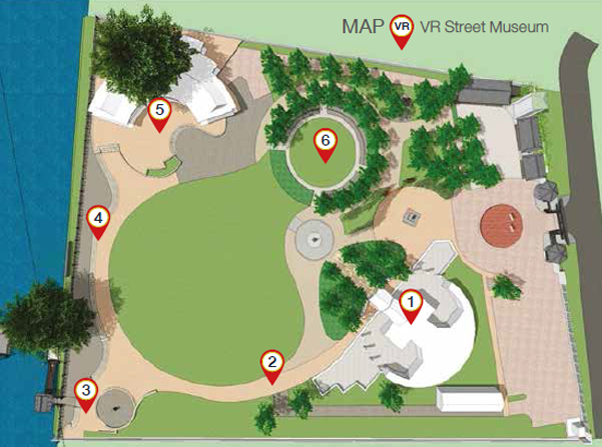 Point 1. Annex building
Point 2. Garden area
Point 3. Yamada statue
Point 4. Pier and Chao Phraya River
Point 5. Yamada building
Point 6. Activity courtyard
SOUVENIR: VR Scope For Sales at The Village
Limited edition only available at Ayuthaya's Japanese Village. Made in Japan. Product design under license of Toppan Printing Co., Ltd.