Background information on the Japanese Village
The Japanese Village (The Japanese Settlement) is situated on the east bank of the Chao Phraya River, south of the island city and opposite the Portuguese Village , and adjacent to the foreign traders communities, the Dutch and British Villages. The pieces of land occupied by these foreign communities were graciously granted by the Monarch to have those foreign settlements located in the same general area. The Japanese Village runs along the Chao Phraya river for about one kilometer, and extends about half a kilometer inland.
In 1935, the Thai-Japanese Association was established in Bangkok. From old documents of the Dutch East India Company, the Association was able to locate the site of the old Japanese Settlement of the Ayutthaya period and acquired 7.5 rai (12,000 m2) of this land to maintain and develop as a memorial site of the old Japanese settlement.
In order to mark the auspicious occasion of His Majesty King Bhumibol's 60th birthday and the centennial of Thai-Japanese diplomatic relations in 1987, the Thai-Japanese Association collaborated closely with Japanese and Thai distinguished scholars and Phra Nakhon Si Ayutthaya Province. In addition, an agreement at governmental level was concluded. The Japanese government granted subsidies totaling 999 million yen (approximately 170 million Baht as of 1987) to establish the Ayutthaya Historical Study Centre comprising of the main building located at Muang Island of Ayutthaya and the annex building located in the same area as the ancient Japanese settlement in Ayutthaya period.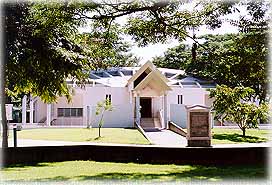 Later in 2007, in commemoration of His Majesty King Bhumibol's 80th birthday and 120th anniversary of Thai-Japanese diplomatic relations, the Thai-Japanese Association embarked on the project aimed at renovating the annex building and replacing all display boards. Moreover, The ground was embellished with large trees and a small Japanese-style garden and pavilion.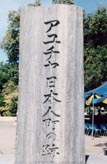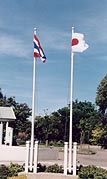 In 2015, the Thai-Japanese Association implemented an initiative designed to establish a new exhibition center housing "The Exhibition of Yamada Nagamasa (Okya Senaphimuk) & Thao Thong Kib Ma", Japanese who played a crucial role in the royal court in Ayutthaya period. This most recent construction is intended for the permanent exhibition adopting the modern multimedia approach to commemorate the auspicious occasion of Her Royal Highness Maha Chakri Sirindhorn's 60th birthday that fell on 2 April 2015.
And in 2017, on the occasion of 130th Anniversary of Thai-Japanese Diplomatic Relations, there was held a Historic Japanese Village Exhibition using VR Street Museum, by modifying the theater room and creating Street Museum, which would induce excitement in learning the history. Landscape of the Japanese Village had also been improved so that it be shady and pleasant and having more Japanese atmosphere. The exhibition room was redecorated to accommodate the Thai-Japanese Cultures Exhibition which would be held in the future.